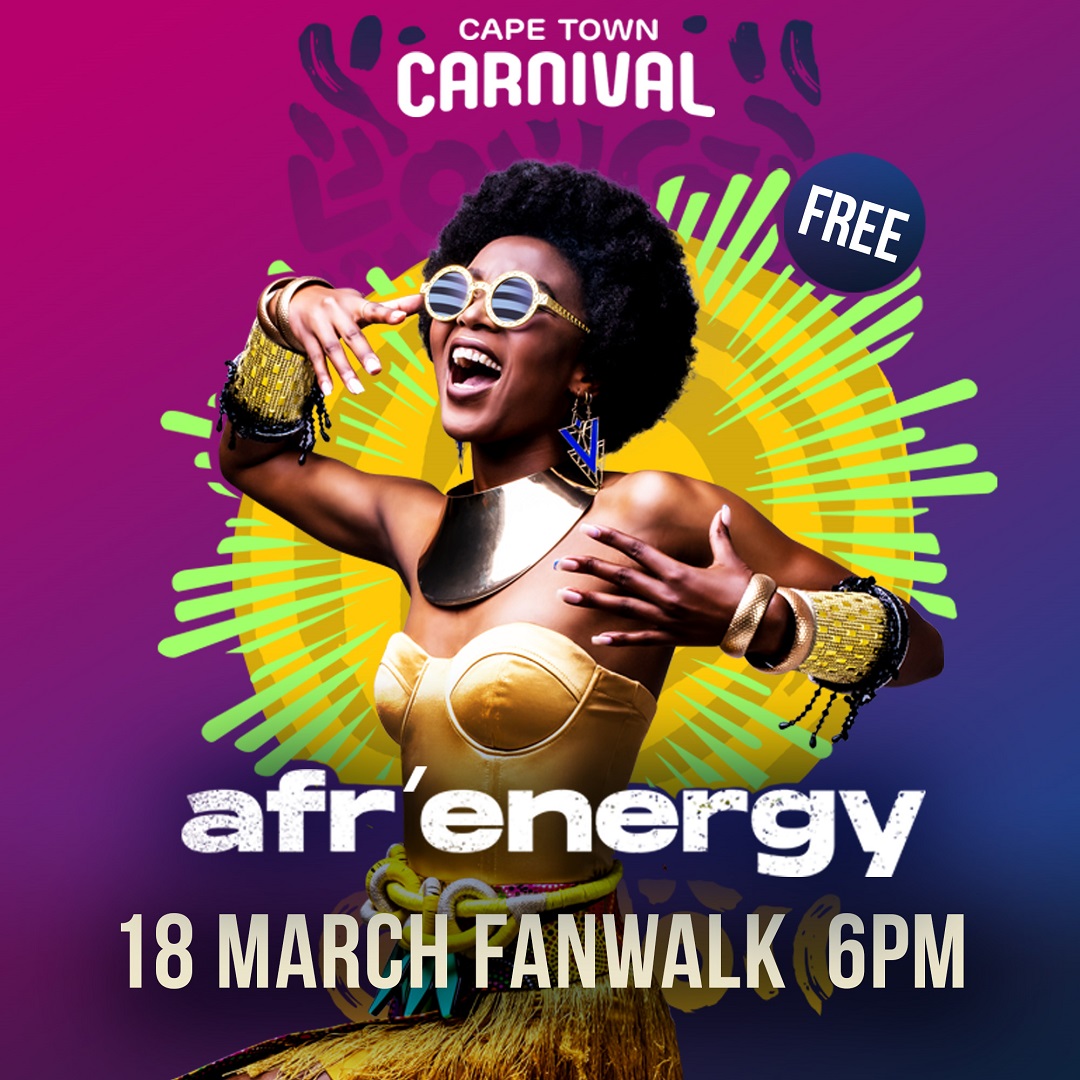 We're back to our iconic classic Carnival parade format on the Greenpoint Fan Walk!
For one incredible day be wowed by the spirit, talent and creative energy that exists in Cape Town and come celebrate our Afr'energy with us!
Experience our event where all the people of Cape Town, South Africa and visitors to our city, are drawn together to celebrate the unique Carnival extravaganza that showcases incredible floats, costumes and artworks, our dancing communities and talent, fun, passion. Come enjoy the passion and fun!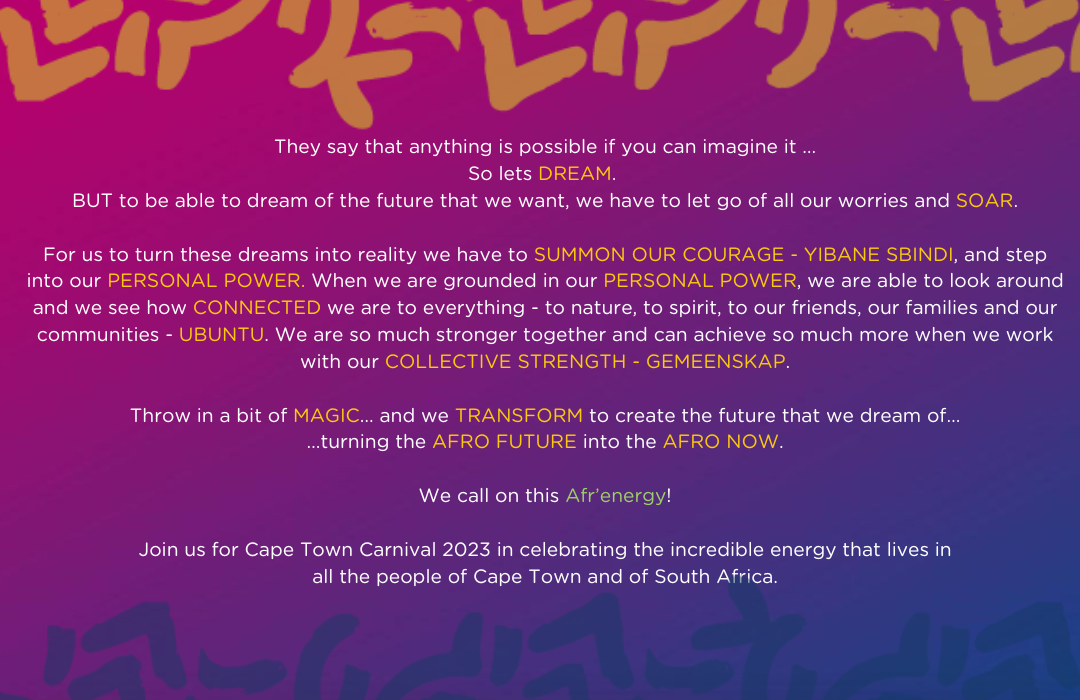 Come and enjoy our iconic Cape Town Carnival!
You will be able to enjoy some pre-parade activities and entertainment in the afternoon from 3pm while enjoying being close to food vendors and bars in our two Carnival Villages.
Carnival Village 1 is situated near Somerset Circle and Carnival Village 2 will be situated in the Green Point traffic department parking lot.
There will be a variety of acts on the Carnival Village 1 stage between 3pm and 6pm; Rainbow Academy, Nokwanda RSA, Foxx Academe, The Amazing Magic of Regardt Laubscher, Marimba Jam, Tayla Hunter, Mali Drummers and Helenic Dancers.
Do you want to see our firefighters in a foam activation on the Fan Walk? The firefighter foam extravaganza will happen along the Fan Walk route from 4.30pm to 5pm.
You can take a break and visit the Villages to stock up on snacks before preparing to enjoy the pre-parade that starts at 6pm! The pre-parade is always a highlight for many people so be sure to find your spot so that you can watch the Harleys, Isa Mother City Rollers, People's Post, City Vision and Tygerburger, and the firefighters! These acts know how to get the crowd going! Come and enjoy the fun!
The Carnival opens at 7pm – watch as our communities and floats show off our Afr'energy!
AND after the parade, the fun will continue as we have a DJ from 9pm – 11.30pm in Carnival Village 1!
We can't wait to see you all there!
Road Closures:
Do note the following Road Closures which will be phased in as needed during the event built up period up to the event start.
Friday 17 March 2023 to Sunday 19 March 2023
[wptb id=9746]
Saturday 18 March 2023 to Saturday 18 March 2023
[wptb id=9751]
Saturday 18 March 2023 to Sunday 19 March 2023
[wptb id=9752]
The carnival is free but should you want to buy tickets…
VIP HOSPITALITY TICKETS (PUBLIC) – R 1 450
Are you wanting a Cape Town Carnival HOSPITALITY experience? Then this option is for you. It includes an exclusive HOSPITALITY area on a raised viewing platform, food (substantial finger foods), bar (selected beers, soft drinks, and wine) and security.
SEATING TICKETS – R 395
Are you tired of standing but still want to ensure that you get the birds eye view? Then the seated stands are your best option. Choose from several different stands depending on your requirements.
These seats are on a bleacher style terraced platform – no food or drinks (but you will be able to purchase from a wide array of food vendors situated nearby).
Please see the map below for seating stand reference: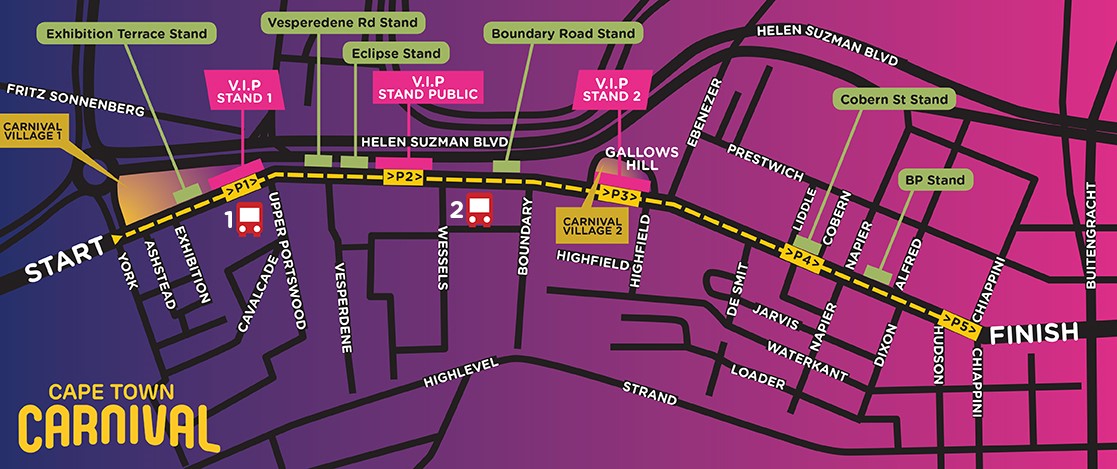 We look forward to seeing you on 18 March!