Ten years ago, Maluva Gandiwa started a job as a cleaner; now the incredible South African is the team leader of the Cape Town Carnival's construction department!
Western Cape, South Africa (02 March 2023) – On the 18th of March, the Cape Town Carnival will wow the city with an electrifying feast of costumed performers, music and floats but it is the stories of the people in the Carnival that are leaving us with all the feels.
The parade is a celebration of Afr'energy – the passion and creativity that fuels the communities participating in the event. But beyond this evening of entertainment and festivity that is open to all, the Cape Town Carnival has a greater mission: supporting artists, facilitating artistic expression and creating opportunity.
Maluva Gandiwa, the 34-year-old team lead of the Cape Town Carnival's construction department, exemplifies this.
In 2012 Gandiwa would regularly stand on the side of the road, hoping to get some piece work. He was picked up one day by a Cape Town Carnival manager to help with a move from the organisation's Woodstock branch to its new base in Maitland and asked to stay on as a cleaner.
Ten years later and he has gone from being a cleaner to being in charge of the construction team.
"It started from there, with me becoming a cleaner and helping with everything I could. In my second year, one of the Cape Town Carnival employees gave me my first welding lesson. From there, I learnt more new skills from different people, and every year I developed a little more," says Gandiwa.
He has since gone on to create his own steel fabrication business operating from Mfuleni, but every year returns to manage the Cape Town Carnival construction team.
"When I'm here I feel like I'm at home. I'm still learning a lot of things, even though I'm the head of department."
"In 2008, the founders of the Cape Town Carnival talked about how this would be a fun way to build social cohesion, and along the way create jobs, help tourism and transfer skills," said Cape Town Carnival Board Chair Prof Rachel Jafta at a recent workshop tour of the Cape Town Carnival.
Thanks to the support of a variety of sponsors, this vision has become a reality.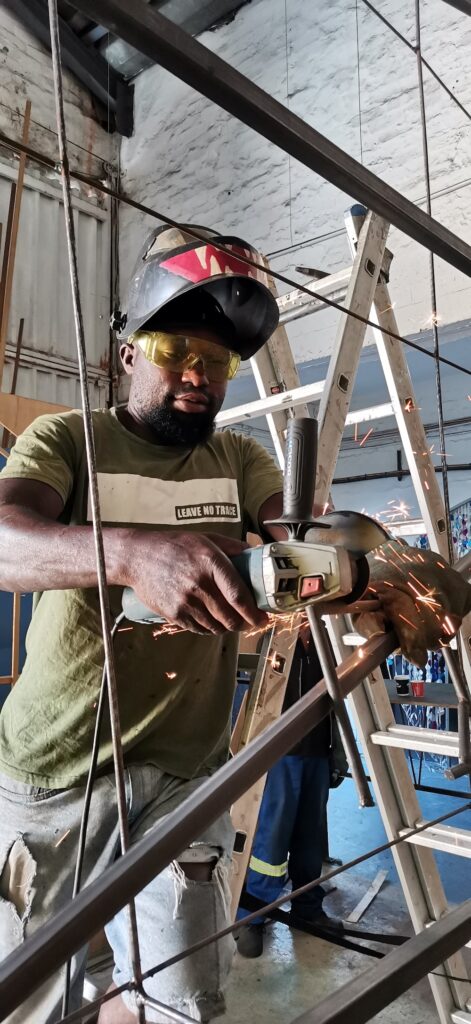 Beyond the transmission of practical skills, there are also plenty of life skills to be learnt by those working behind the scenes at this annual event.
"This is what I love about the Cape Town Carnival – it's about teamwork. When you see the final product, it has been through construction, fabrication, and so on and by the end it becomes such a beautiful thing," says Gandiwa.
And those beautiful creations will be proudly paraded down Green Point's Somerset Street on the evening of March 18 for all to enjoy – representing far more than just incredible artistry and entertainment, but also hard work, passion and the possibilities that are created by giving people a chance.
"I always think about how lucky I was that day standing on the side of the road," adds Gandiwa. "And when I drive around now and see guys at the robots who look like me, I would love to help them. This is where I came from and I was just lucky enough to be given an opportunity."
Locals and visitors will be able to join in the festivities for free on March 18. The Fan Walk will be closed to vehicle traffic in the afternoon so that spectators can safely enjoy pre-event activities, and the pre-parade starts at 6 pm with the main parade kicking off at 7 pm. Entry is free but tickets will also be available for seats in strategically placed stands along the parade route.
Tickets for Cape Town Carnival seats are on sale now on Quicket. For more information see capetowncarnival.com.