January finds our design and production teams hard at work creating the magnificent floats and costumes that will wow Carnival spectators on 14 March.
While internal Carnival teams design and build many of the parade floats, we also encourage and actively seek out fantastical moving artworks and floats from external designers and builders across the Western Cape. An exciting example of how the creative team has succeeded in including public participation pieces is the Giant Snoek Puppet which is set to form part of the Water section of the ELEMENTAL themed procession.
The 10-meter long Snoek Puppet will be operated by 8 people in the style of a "Chinese dragon".  The fish depicted is known locally as a 'snoek' (family of the Barracuda) and is central to the culture and natural food chain on the Southern Cape coast.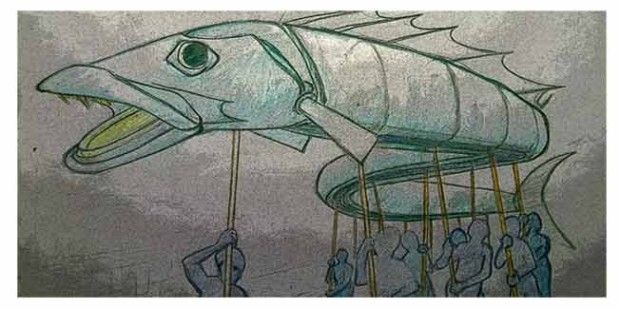 The Snoek Puppet aims to raise awareness in our communities regarding man's sensitive relationship with the Ocean and her creatures.  This puppet will not only form part of the Cape Town Carnival parade, but will also be used in communities across the South Peninsula over the next year to tell stories of our rich natural and cultural heritage.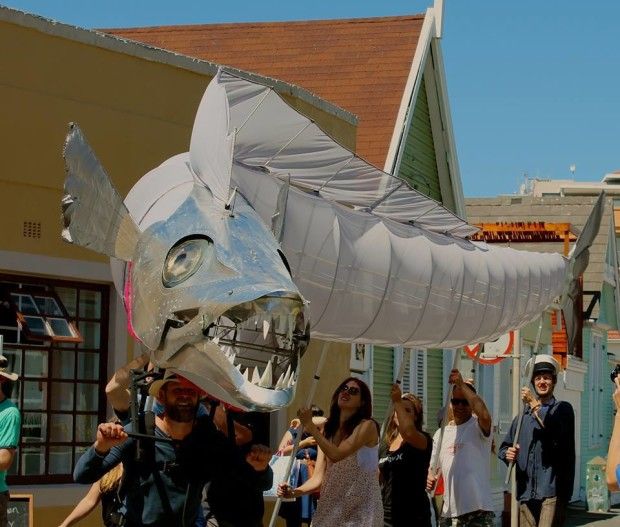 The Giant Snoek at its first trial run at the Muizenberg Festival manned by members of the Muizenberg community.
It is hoped that come Carnival Day, the puppet will be manned by members of the Kalk Bay fishing community. This spectacular piece was designed and built by local False Bay artists Jonah de Lange and Peter Collard.
See this fishy creature 'swim' down the Fan Walk on 14 March 2015!