The second of an eight-part Cultural Creative Workshop series was held on Saturday by the Cape Town Carnival, which explored the dynamic character and flavour of African culture through its history, movement, rhythm and design in South Africa.
Aimed primarily at community-group leaders, performers, artists and artisans from across greater Cape Town, the workshops are designed to keep participants and the public engaged and inspired in its year-long community-driven programme, but also to deepen cross-cultural understanding.
After a thumping ice-breaking session of gumboot-dancing led by Solomon Xulu of the Phathizwelethu Marimba Band, the workshop dived into a reflection on the nation's cultural roots, with an inspiring talk by artist, curator and socio-cultural advisor Khanyisile Mbongwa. Referencing the movement and progression of isiZulu, isiXhosa, seSotho, seTswana, tshiVenda, isiNdebele, sePedi and siSwati peoples across the country, Mbongwa highlighted the fluidity between languages and groups, and the many dialects and cultural perspectives that made up and continue to make up these cultures and cultural territories where South Africans from many different backgrounds now coexist.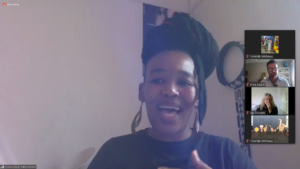 "isiXhosa, actually, is the youngest of the Nguni languages, with abaXhosa, amaBaca and amaPondo sounding similar, and carrying influences of Zulu, Swati and Khoi languages," says Mbongwa. "Territories with different cultural groupings affected the articulation of language and the expression of culture, often using rivers and mountains that ran through them as lines of connection."
Awareness of our African culture roots encompasses untold histories, as pointed out by guest speaker Dr Tigere Mavura, political scientist and lecturer at the Stellenbosch Photography Academy and a visual-arts practitioner, referring to examples like the significance and extent of the kingdom of Great Zimbabwe from the 11th to 15th centuries, its relation to the the ancient city-state of Mapungubwe in Limpopo and a vast trading network connecting people and cultures across the continent. Using the fascinating and colourful carnivalesque Nyau dancers of the Gule Wamkulu as examples, Mavura explained the role of dance in social commentary, and their present day influence in countries like Mozambique, Malawi, Zimbabwe and Zambia.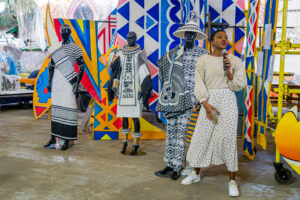 Mbongwa explored the symbolic and connecting role of feet and hands in the movement of people and how different eras have evolved patterns of movement in dance and music styles from Kwela, Pantsula and Kwaito to Amapiano. Feet form a crucial part of storytelling, in dance and performance. Similarly, hands play instruments like the drum or bow, but they also connect people to each other; and, of course, there is clapping, and its particular rhythms in cultural rituals like initiations or at church.
After a drumming demonstration by Solomon Xulu, participants explored the role of costume and adornment. Michael Bagapi, costume production supervisor of the Cape Town Carnival, referenced isiZulu, isiXhosa, seSotho and Ndebele artwork, and explained how celebrating cultural lineage is often evident through adornment, with new designs inspired by ancestral imagination. The Cape Town Carnival's emphasis on cultural identity in this area was also highlighted, especially given the national and international reach of the annual street parade.

"Women in Southern Africa, especially older women, may cover their heads and shoulders entirely in cloth and jewellery, along with long skirts, as a sign of self-appreciation and respect for their culture and elders," Bagapi said. "In most cases, they wear it for traditional ceremonies, but what's so exciting to see is the international recognition these garments are receiving by large fashion houses."
Highlighting the role of honouring tradition and culture without revealing ancestral secrets, Bagapi explained how blankets worn by men returning from initiation ceremonies are never made again in the same design. Accessories and beads are an adornment that's used quite frequently in Carnival costuming, but given the care and cultural consideration that's needed to respect customs and preferences, like those of the Intwaso to call upon ancestors, only the black and white beads have been used in costume design.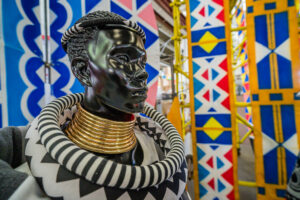 Sean Mac Pherson, designer at Cape Town Carnival spoke about how universally strong the approach to design is in South African cultural patterning despite there being many different cultures. She emphasised the role of rhythm in design which can be seen in the bold repetition of shapes and symbols which periodically carry horizontal or vertical lines, indicating a layerness both in sound and rhythm. From the internationally-famed Ndebele bright and bold box-shaped patterning, to the intricate diamond-shaped Zulu beading, or the refined Xhosa beadwork that carries surprising thread-throughs, the boldness and repetition may signify a drum quickly develops into a pulsating rhythm. "Anything can become a pattern when you think about the rhythm of it," comments Mac Pherson.
Finally, the workshop broke up into smaller groups in which the participants created their own designs and patterns, inspired by traditional design vocabulary, using squares, triangles and circles, utilising a modern day web-based tool called autodraw.com.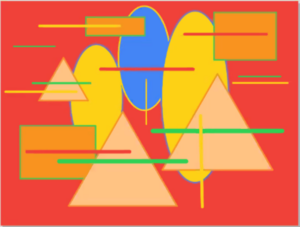 "These monthly workshops bring a wonderfully diverse group of people together to explore culture and in doing so, foster a growth in understanding and appreciation for each other," says Jay Douwes, CEO of Cape Town Carnival. "We hope that the public will increasingly realise the role and value of cultural dialogue, and join us in celebrating identity, talent and community expressed through performance, music, dance, design and art."
The public are invited to attend the monthly Cultural Creative Workshops.